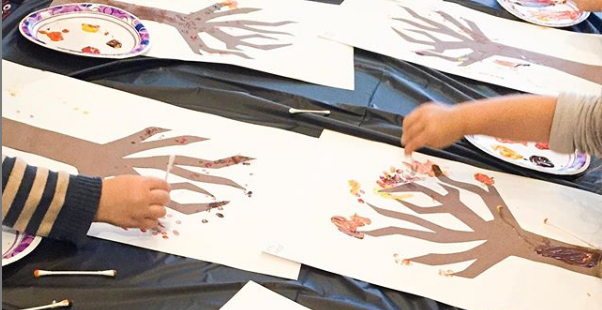 6 Best Fall Foliage Hikes for East End Families
"Even if something is left undone, everyone must take time to sit still and watch the leaves turn," said Garden Designer and Writer Elizabeth Lawrence. We agree that autumn is a blissful time, where trees burst with dying beauty and blaze like torches, lighting the way to winter – but we disagree that you have to "sit still" to partake in all the glory of the year's grand finale.
Philosopher Henry David Thoreau tells us, "An early morning walk is a blessing for the whole day." Gathering our families up for a fall foliage hike is a treasured tradition for us here in the East End. Create warm family memories, enjoying an active, bright, clear weekend at one of these East End New York City hidden gems.
(2595 Noyack Road, Sag Harbor)
This wildlife haven sits on a 187-acre peninsula overlooking Noyack and Little Peconic bays. Birdwatchers delight in autumnal migrations of double-crested cormorants, horned grebes, beach sanderlings, common loons, Forster's and arctic terns, and turkeys. Cold-stunned loggerhead and Kemp's ridley turtles wash ashore to warm up on their way south for the winter. The endangered osprey boasts a commanding presence at Morton, with at least two nesting pairs active in the area for three decades. Sharp-eyed tots may even spot resident eastern chipmunks, eastern cottontail rabbits, gray squirrels, red fox, or white-tailed deer.
(5501 NY-25, Laurel)
The preservation of Laurel Lake is part of the Peconic Land Trust, dedicated to maintaining the natural beauty of 480 acres of land, including 14 miles of well-groomed trails clearly marked for your family to follow. A winding two-mile loop trail will take you up and down changing topography through towering cedars, oaks, dogwood, and laurels around the lake. Don't forget to pack a picnic to enjoy at the scenic lakeside picnic tables. A playground adds to the fun for your youngsters.
(79 S Ferry Rd, Shelter Island)
Choose from five flat trails amid over 2,000 acres of mature oak woodlands, freshwater marshes, floral fields, and tidal creeks. The accessible trails range from one or 1.5 miles to three, six, and 12 mile loops. The trails and visitor's center are open every day (except Tuesdays) from 9 a.m. to 5 p.m., but we especially recommend "Souper Sunday," which feature a guided six-mile green trail hike to Bass Creek Cottage for homemade soup, or "Nature's Halloween Trail," which offers friendly costumed characters and light refreshments.
(50 South Fairview Avenue, Montauk)
Ogdens Brook Trail is a section of the 125-mile long Pamanok Path inside Montauk Point State Park that follows Montauk's famous Oyster Pond. This easy 1.5 miles of unpaved road conveniently starts at the parking area, continuing over a stream footbridge, through the wetlands, and into a maritime forest of undisturbed beech, black tupelo, red maple, and shadbush. Cool sights along the way include a lighthouse and abandoned military bunkers. Later in the season, harbor seals can be seen on the coastal rocks down the yellow-marked "seal haul-out" trail.
(3 Old Country Road, Quogue)
The 300-acre Quogue Wildlife Refuge is a favorite for kids, as the Outdoor Wildlife Complex houses injured bald eagles, owls, falcons, red fox, chinchillas, bearded dragon lizards, tortoises, and other New York native species. The Charles Banks Belt Nature Center offers additional wildlife exhibits, a nature library, touch table, children's room, gift shop, and the best views of Old Ice Pond. Seven miles of walking trails take you through diverse habitats – bogs, fields, Pine Barrens, tidal estuaries, and wetlands. The main trail is not only scenic, but stroller-friendly, too. For $10, you can make a reservation for their annual "Enchanted Forest Trail" walk, taking place at noon on October 26th or 27th, featuring games, activities, and costumed characters.
(63 Bellows Pond Road, Hampton Bays)
Sears Bellows takes you through clearly marked trails of 979-acre parkland, suitable for beginners. The easiest trail is the one-mile, stroller-friendly jaunt around Bellows Pond, but there are paths to continue on along Sears Pond. A fun playground overlooking the water is a great place to park for an extended lunch break. Older kids may enjoy fishing for bass, bluegill, pickerel, or perch.
Pro Tip: We keep an eye on the I Love NY Fall Foliage Report to determine the best timing. (As of early October, we're at about 15% color change, with an explosion of color expected in the coming weeks.)
Love the fall season? So do we! Join our team of educators in one of our fall classes for seasonal crafting, cooking, traveling, and learning opportunities aplenty. We have something for everyone ages six months to 10 years!
https://shinenyc.net/wp-content/uploads/2019/10/Untitled-2.png
310
602
Shine
https://shinenyc.net/wp-content/uploads/2021/02/Shine-logo-300x220.png
Shine
2019-10-15 21:02:45
2021-10-18 14:03:08
6 Best Fall Foliage Hikes for East End Families